Pour Wine and Bites:

Ambassadors for The Boisset Collection

As Ambassadors, we have access to more than 100 allocated wines from Boisset Collection wineries in France and California. We love to share our wines at social gatherings, in-home tastings, and sell them online. We represent iconic wineries including Raymond Vineyards in Napa Valley, Buena Vista Winery in Carneros, DeLoach Vineyards in Russian River Valley, and our historic wineries in Burgundy, France. Please contact us if you are interested in a home wine tasting event or learning more about our wines.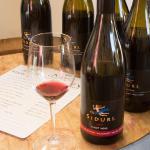 Other Wines Recommendations from Pour Wine and Bites

Morgan is located in the Santa Lucia Highlands. Dan Lee makes some outstanding Pinot Noirs and his "12 Clones" was one of the wines that started the love affair between us and Pinot Noirs.

"Pali Wine Co. succeeds with its Huntington 2016, showing all the rich and juicy qualities you want from a California Pinot Noir, at a great price. The blend is anchored with grapes from their estate vineyard in Sta. Rita Hills, with additional fruit from Santa Maria Valley and Los Alamos." Wine Spectator, 12 Affordable California Pinot Noirs.

Bogle Essential Red

Bogle makes outstanding value wines and we especially enjoy Bogle Essential Red. A  blend of California's finest plantings of Old Vine Zinfandel, Syrah, Cabernet Sauvignon and Petite Sirah.

Zotovich- Santa Rita Hills

Siduri Wines

Adam Lee makes amazing Pinot Noir with the finest grapes from Oregon to California.

This is a very drinkable value wine. It is a light bodied Pinot with low acidity and tannins. The nose is very pleasant. Best news, it is affordable.